Hello reader!
I've finally published a new article on my blog and this time with a surprise included. Read it to the end!
An idea had been around my head for a long time, a project that I really wanted to do, although I also knew that it would be a challenge for me.
This idea was simple, combining mushroom lighting, which I personally call Fungus Enlightening, with a technique that until now was totally unknown for me, Macrophotography.
The concept of Macro photography is the antithesis of what we usually look for in landscape photography, which I usually dedicate myself to, and which is full of large spaces where depth of field and wide angles of vision prevail. I had to completely change my chip to immerse myself in the world of the small and insignificant things, completely leaving my comfort zone behind, but … this is how you learn more!
Once I decided to carry out this project, I contacted with the Irix Lens team, who was interested on it from the first moment and they lent me a unit of the Irix 150mm F2.8 Dragonfly Macro . This lens is the flagship of macro photography in the brand's catalog.
A few days after talking to them I received a unit of this macro lens and I prepared myself to learn as much as possible about this new little world, completely new to me.
Irix 150mm F2.8 Dragonfly
I have to admit that the presentation that the brand has accustomed us to, as I mentioned in previous articles , is really exquisite and it is appreciated when all the details are pampered in the most meticulous way.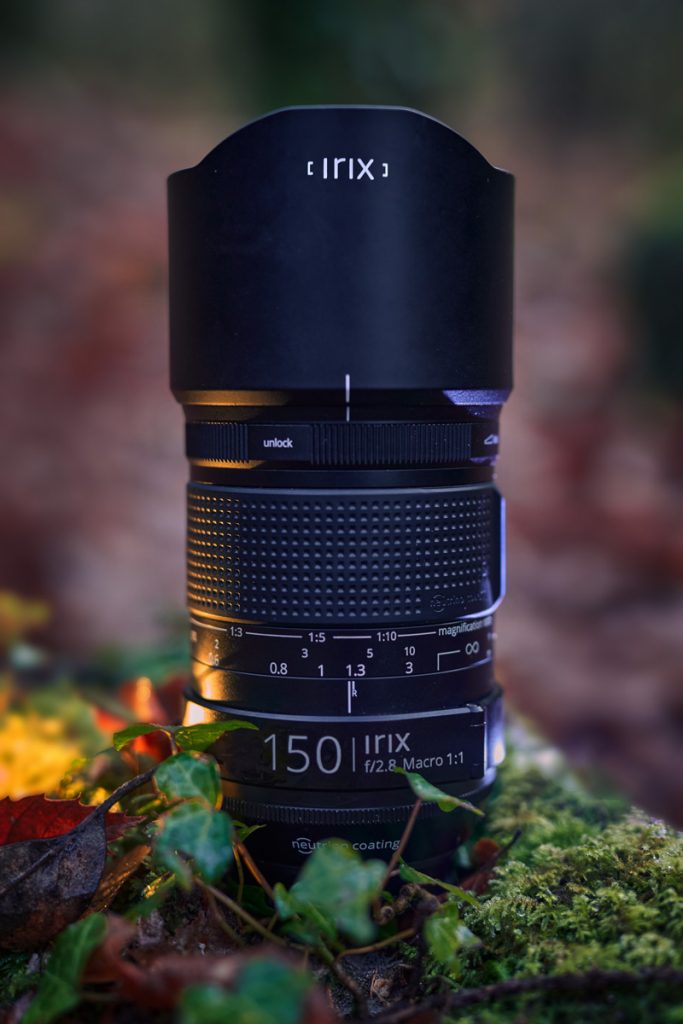 The lens comes in a completely black box with the inscriptions and information in blue and white, the usual colors in the Irix imagery. When I opened it, I found the characteristic Dragonfly symbol that identifies this model, an extra back cover and a rigid neoprene cover with the lens inside.
The first feeling that came to my mind as soon as I got the lens out from its case, was that it was a really robust and surprisingly light unit. Its construction is based on a magnesium alloy, which has become a standard of the brand. Besides, it is also sealed in key points, thus giving it resistance to the elements when the weather is adverse.
Information such as focus distance or magnification factor can be found on the surface, etched directly into the metal and reinforced with UV reactive paint to make it easily readable at any time and in any condition. In addition, it has a rubber-coated focus ring that provides comfort and softness, throughout its 270º, to achieve the best results when focusing.
The construction of the lens consists of 12 elements arranged in 9 groups: three Super-Low Dispersion ED elements and another 4 with high refractive index that help to avoid chromatic aberrations and guaranteeing maximum sharpness and quality in our images.
Another point that has caught my attention is the tripod mount, also made of metal and compatible with Arca Swiss. It will helps us to achieve the best stability, very necessary in a discipline such as Macrophotography
Technical Details
My idea is not to spend too much time on the technical specifications of the lens, they are available on the Irix Lens website, but I'm going to highlight those that I have found most interesting:
Scale 1: 1 and Minimal focusing distance of 35cm: It will allow us to take pictures really close to our subject.
Maximum aperture of F2.8: Super bright lens that will help us work comfortably in low light conditions.
Focus ring throw 270º: Provides us with the greatest comfort when focusing.
Manual Focus: Although at first it could be a handicap, this is not the case due to the slowness of the macrophotography.
Focus Confirmation: It is useful on many occasions to detect if we are focusing where we really need it.
EXIF Data Transmission.
Blur: 11-bladed diaphragm that is rounded and gives it a really smooth and beautiful bokeh.
Focus Ring Lock: To avoid accidents!
Neutrino Coating: Exclusive to Irix Lens and that provides us with great sharpness.
My experience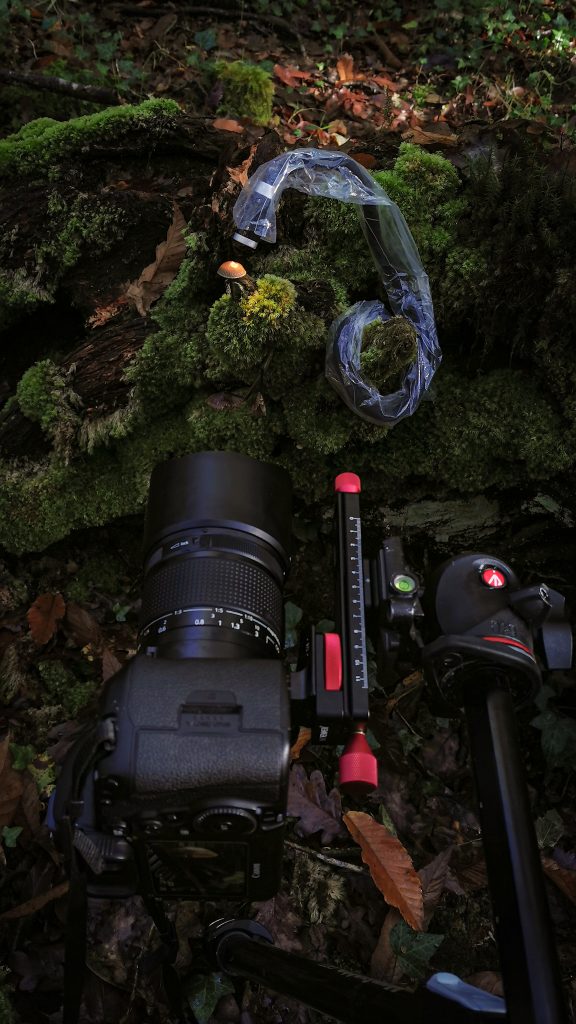 The Irix 150mm F2.8 Dragonfly fullfill the expectations and quality standards that the brand has been working with. All the details have been taken care of to the maximum and in the most meticulous way. It will allow us to get the most out of this lens and achieve really good results.
This lens offers us sharp shots, without distortions or strange aberrations and ensures us excellent quality results.
I am not an expert in macro photography but during my experience as a photographer and with what I have worked with this lens in the latest months, I think it is a magnificent option to achieve really brilliant results in this discipline.
Thanks
My sincere gratitude to the Irix Lens team for lending me this great Irix 150mm F2.8 Dragonfly, thus allowing me to make my very first foray into the world of Macrophotography. Without your collaboration this project wouldn't have been possible!
And here is the surprise!
In addition, they have been kind enough to create a discount code for all those Lost in Woodlands Photography readers who wish to get one of this magnificent lens.
Use the code WOODLAND to get a 10% discount and purchase an Irix 150mm F2.8 Dragonfly from Irix Lens. Don't miss out!
Macrophotography
My experience in this discipline was practically nothing. I had never been excessively interested in the world of the small things and what on many occasions seems insignificant or even bland. Nothing could be further from the truth!
I have to admit that I had to completely change my way of seeing photography to see beyond the obvious and adapt my eyes to this new world. At first, it was even frustrating to see that the results were not as I expected, but with effort and patience I began to understand the concepts and peculiarities of macro photography. I am not an expert, I'm far from it, but I have achieved results which I can be quite satisfied with.
Once the theory was learned, it was time to go out into the field to experiment!
Fungus Enlightening
As I mentioned before, my main idea was to take my Fungus Enlightening project to the world of macro photography and thus obtain images with much more detail.
The idea is quite simple on a conceptual level. It's about getting, through artificial and natural lighting, that luminous effect and that mystical glow in the mushrooms and give them a magical and unreal halo. As if they just came out from a fairy tale!
I have used the following gear:
Canon 5D Mark IV.
Irix 150mm F2.8 Dragonfly Macro.
Tripod and micrometer plate.
Various LED lights and colored gels.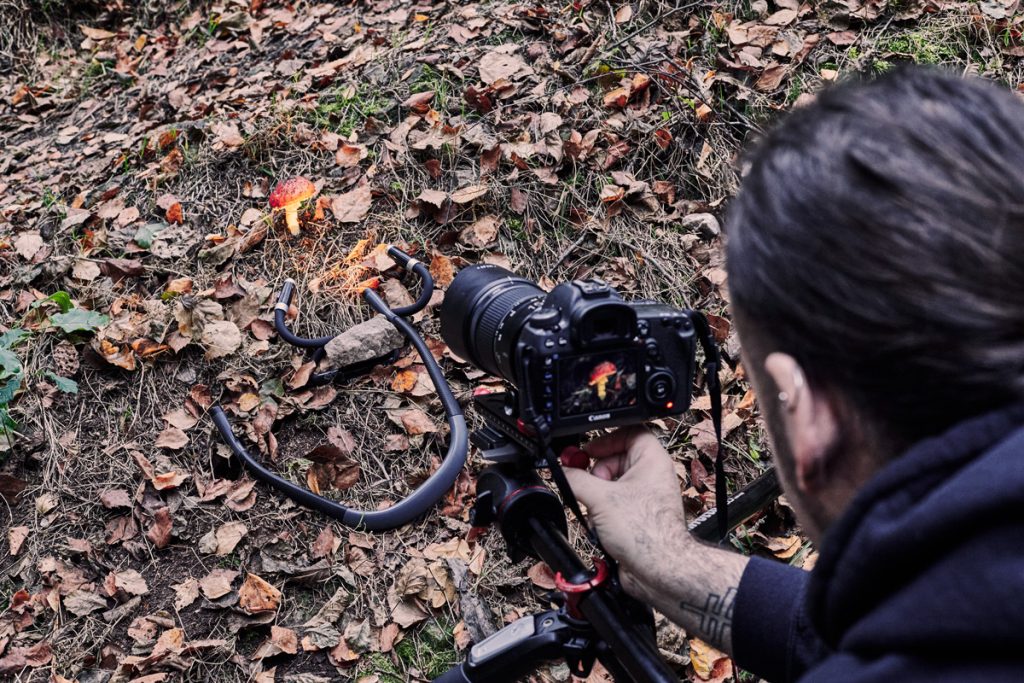 Looking for Mushrooms
I have spent the last months looking to the ground, taking every step during my walks in search of waterfalls through forests and mountains trying to locate mushrooms to practice. At first, it was a bit difficult to find interesting subjects but once the first autumn rains came, the forests were full of these little living things and I had a wonderful test field to experiment.
Once I find a mushroom, I check that it is in a perfect condition and I start to think about all the possible compositions, taking into account everything that surrounds it. It's important to notice every detail, every leaf, twig or blade of grass, no matter how insignificant it may seem. It can "ruin" a composition and prevent our eyes from focusing on the main subject we are trying to capture.
The next step, once the base composition is already organized, is the lighting. The idea is to give to the mushroom that mystical glow and creating the ilusion that it is the source of the light itself, that the hymenium itself is illuminating and projecting that light downwards, towards the stipe, the ring, the volva and the area around them.
Depending on the species of fungus, it will behave differently in light.At this point, there are two options.
If the upper part of the mushroom is translucent, I apply the light from above its hat, in that way it becomes a light diffuser and it projects the light downwards.
If the upper part isn't translucent, I put the lighting from below, on the distance, so I can get a similar effect than the one I talked about before.
Personally I prefer the first option, the result is much more natural and organic!
The Shot (Or a bunch of them)
Once the set is prepared, it is time to take the shots. Let's go for it!
The particularity of macro 1:1 lenses, as it happens with the Irix 150mm F2.8 Dragonfly, is that they capture the subject in real scale. This means that if you photograph a 1cm mushroom, its image will occupy 1cm in the sensor. This is the reason why, when we shot with the diafragms more open and luminous, the focusing area is really small, so it makes difficult to obtain all the detail I'm looking for.
This is where a new element comes into play, an artifact that will allow us to move the focus in fractions of a millimeter and even almost imperceptible, the micrometer rail. With it we can get our entire subject in focus, taking a lot of images and then putting them all together through a stack of photographs.
The process starts by focusing the further part of the subject, taking a first shot to check that the histograma, the light and the composition are the wanted ones. Once we have all this, it's time to start taking the different photographs, moving the rail from that further point, until we get a perfectly sharp image of the closest point. It's possible that the first time that we do the whole process, we feel it's overwhelming, boring, or humdrum, but once you get used to it, it will come out instinctively. Besides, when you see the final result you will realize that all the effort and time put into it was really worthy.
We have the material, now it's time to process it!
Post Processing
We start our pc and we have a lot of shots for just one image, so it's the time to do the stack. There are different softwares to make it, although from the ones I've been able to try, I choose Helicon Focus.
My workflow would be the next:
Basic processing with Capture One.
Stacking with Helicon Focus.
Final processing with Adobe Photoshop.
And the most important thing, each person's creativity and the vision that each photographer desires to capture!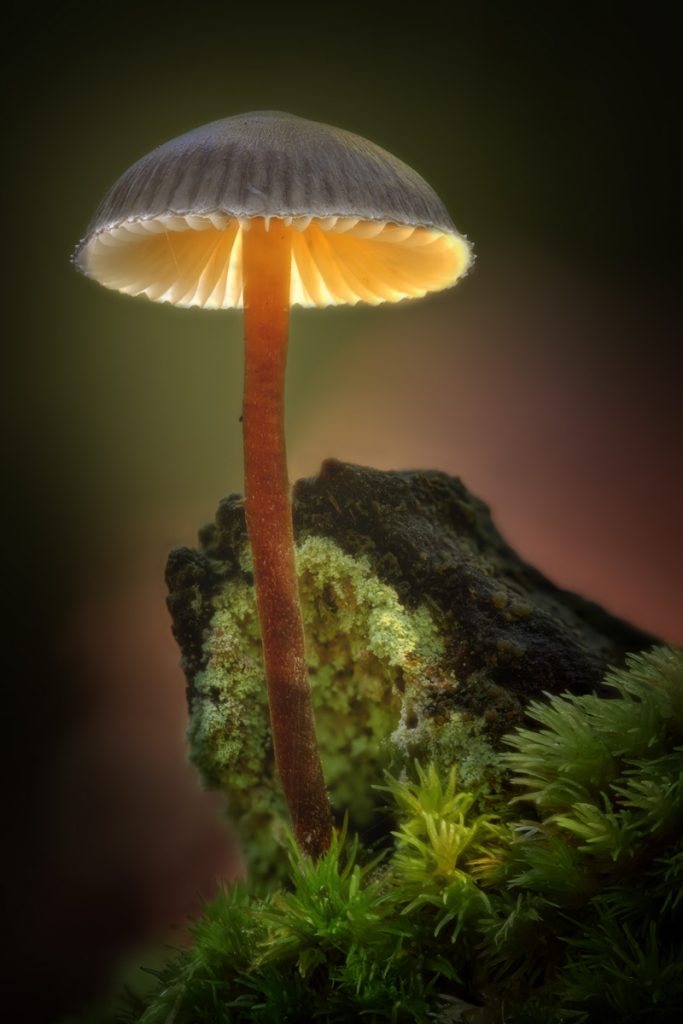 ---